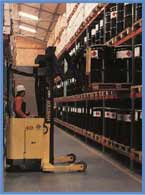 Double Deep Selective Metallic Racks are used when there is not much space available for the storage of merchandise and when there are five or more pallets of each SKU and these are picked normally in multiples of two.
Its main advantage is that the necessary space for the aisles is much smaller, compared with the single deep selective system, eliminating, in some cases, until half of the aisles of a single deep selective system.
Its main disadvantage is in the fact that only has direct access to the pallets faced the aisles. Additionally, the lift truck to use is different from the conventional one, since it must have a special element, which allows the extension of the forks (double reach), to be able to store the pallets in the second level in depth. This feature increases the amount of money necessary to buy the equipment.